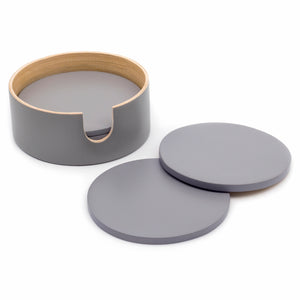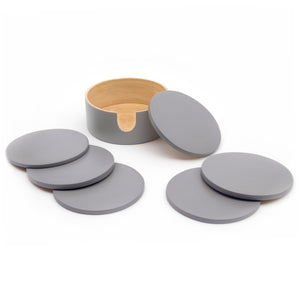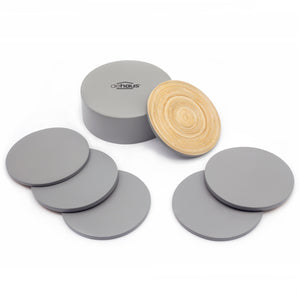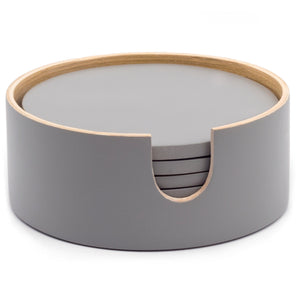 Dehaus Set of 6 Stylish Grey Spun Bamboo Coasters with Holder, Handmade Round Wooden Coaster Set (Grey/Natural)
Regular price
£17.09
Sale price
£18.99
"I LOVE THEIR CLEAN, SIMPLE DESIGN AND THEY ARE PERFECT FOR MY BEDSIDE TABLES!"
—MISS RODGERS, UK
Stylish contemporary handmade bamboo coasters set with holder. Our versatile spun bamboo coasters feature a simple neutral reversible design with one side hand finished in soft satin grey, while the reverse side features a beautiful and interesting natural spun bamboo finish. High quality construction, yet light in weight, our practical round bamboo coaster set gives your home or office a simple and stylish modern scandi look.


STYLISH MODERN DESIGN – Beautifully crafted by hand exclusively for Dehaus, our set of 6 bamboo drinks coasters have a simple contemporary scandi design, and come with a handy holder for when the coasters are not in use.
VERSATILE & REVERSIBLE – With a smooth satin grey painted finish on one side, and natural spun bamboo wood on the other, our cool and classy coasters will complement any decor. Perfect protection for a home table or office desk from a hot coffee cup, mug of tea, wine or beer bottle, or use them as part of a decorative candle or cactus display.
HIGH QUALITY & DURABLE – Made from premium-grade bamboo, each drink mat has a high quality construction and is extremely durable, tough and strong. They are easy to clean with a damp soapy cloth and are naturally anti-bacterial so perfect for everyday use.
ECO FRIENDLY – Dehaus bamboo coaster sets are made from carefully selected 100% natural bamboo and all packaging is recyclable. Bamboo is extremely renewable and sustainable compared to other wood and plants. It is also naturally anti-bacterial, biodegradable and regrows to its adult size in just 3 to 5 years.
MAKES AN IDEAL GIFT – Our bamboo coaster sets come in their own 100% recyclable box packaging and their versatile, plain and clear blank design make them ideal accessories and gifts for friends and family.
Delivery
Standard UK Delivery  (1 - 3 working days)
FREE Standard UK Delivery on all orders to mainland UK and Northern Ireland
Express UK Delivery  (1 - 2 working days)
£3.95 for Express UK Delivery on all orders to mainland UK and Northern Ireland

INTERNATIONAL DELIVERY
Regrettably, we have temporarily suspended International delivery on all orders. We hope to be able to offer International shipping again very soon.
Thank you for your understanding.
Reviews